About Kinesology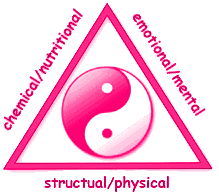 Kinesiology is a drug free natural therapy for healthy balanced living.
Are you sick and tired of being sick and tired? Are you exhausted from stress or feeling run down and fed up? Kinesiology works to release pent up stress in your body and energy system that is from the past, present or (anxiety about) the future. Kinesiology assists with relaxation, calm and rejuvenation. This therapy is well known in Europe and Great Britian but fairly new to Calgary. It is a non-invasive, holistic approach to health and well-being. Your body's innate tendency is to be well and healthy. In Kinesiology, we use a biofeedback system called muscle monitoring to discover areas of stress or imbalance in the body, mind and energy systems and identify ways to bring you back to a healthy balance.
Kinesiology is a communication tool that enables a person to assess and upgrade their performance in all areas of their life. Kinesiology is the science of energy balancing and is grounded in the study of anatomy and physiology. Kinesiology uses muscles as monitors of stress and imbalance within the body. Kinesiology enables people to detect and correct various imbalances that may relate to stress, nutrition, learning problems, minor injuries and other issues they meet in their daily life.
Light Work Kinesiology
Is a complementary health process that corrects the energy and electrical/chemical flow in the body allowing the body to heal and restore itself. This drug-free, non-herbal approach is a gentle, non-invasive way of restoring your body's normal function. It Assists in connecting with the higher self, and provides a different perspective from the immediate, intense human stress response. The responses of a wider, higher frequency within the "Chakras", more distant yet more in touch with real issues and ideas that spring from beyond the limitations of life on Earth. The insight comes from within, translated and transmuted through the heart of both the practitioner, and the individual seeking the therapy.Learn More About Chakras
Muscle Testing.
Basically this is how kinesiologists get information from your body. Muscle testing is the biofeedback mechanism between the brain and the muscles, its like an electrical circuit. Muscle testing gives accurate and immediate information about the stress that is being held in the body. The muscles relate to various organs and meridians, Also called the "Chakras", and when gentle pressure is applied to specific muscles, whether they 'unlock' or hold strong is an indication of stress or imbalance and allows the practitioner to know what areas require attention. Once that stress is released, or 'balanced', then the muscle will hold strong, or 'lock', indicating that the specific issue that was being tested has now been balanced. The muscles throughout our bodies correspond with the Chakras, or "Energy Centers" in our bodies. Learn More About Chakras
Assists in healing the
root causes of many issues, including: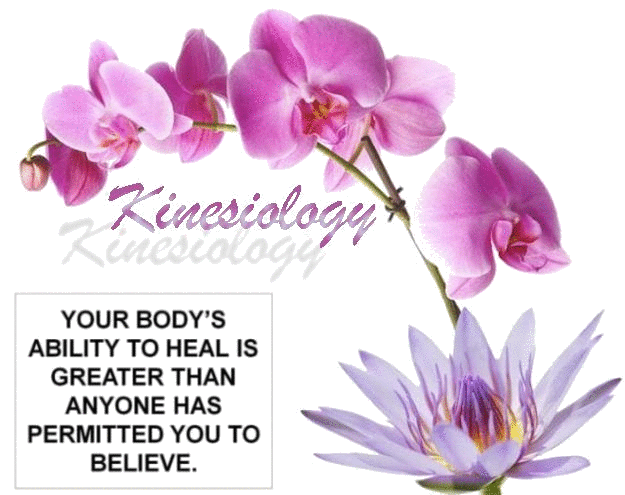 allergies


stress


flues and viruses


muscle pain


insomnia


nutritional imbalances


fatigue


soft tissue damage


headaches/migraines


chakra imbalance


environmental sensitivities


detoxifying the body from heavy metals, vaccinations, parasites, drugs and more
What is Involved?
Using gentle pressure touches, the body learns to restore the energy and electrical flow through the lymph system and rebuild broken neural circuits allowing the body to heal itself. Kinesiology employs various treatment approaches to reinstate balance and revive the flow of energy in different systems in our bodies.
We do not treat or diagnose, but rather combine the muscle monitoring with various modalities to reduce stress and pain thus opening the door to optimum health and well-being.
Stress is a killer disease. My holistic approach includes helping you deal with all your stressors. Financial stress is the number one stress facing adults today. My holistic approach that incorporates learning, understanding of human behavior and natural health care can release the stressors that are holding you back from acheiving a calm, active, productive and happy life.

With a whole life of experience helping others overcome lifes difficulties; I can help. My approach is cross-disciplinary and research based. Holistic understanding of nutrition, natural health care, body memory, psychology and natural light work, leads to significant changes.

This is a Picture of Our Healthy You Sanctuary. To schedule an appointment, please submit a message on the contact page, and I will return your message promptly! Your friend, Brenda.