Welcome to Healthyou.ca
Legal Disclaimer
Confidentiality, Copyright and Trademarks
Your Confidentiality
Thank you for visiting Our Web Site! We protect your privacy while you visit us online. You do not have to provide any personal information to visit this web site. If you provide us information about yourself via e-mail or a web form, your information will be used only for the purposes described at the point of collection, such as to send information or products to you, or to respond to your questions or comments.
Copyright © Healthyou.ca
Copyright © 2003 Healthyou.ca ("A Healthy You"). Healthyou.ca, or Brenda Forsey, copyright owner, is a Holistic Care provider, located in Calgary AB. All rights reserved. The content available through this website is the property of Healthyou.ca or its licensors and is protected by copyright and other intellectual property laws.
Noone may reproduce, retransmit, distribute, disseminate, sell, publish, broadcast or circulate the content received through this website to anyone, including but not limited to others in the same company or organization, without the express prior written consent of the content owner of Healthyou. Without limitation, you may not post any content from this website to newsgroups, mail lists or electronic bulletin boards without the prior written consent of Healthyou.ca. We do, however, encourage the use of links to our site at Healthyou.ca! WE ASK THAT YOU REQUEST PERMISSION TO USE ANY IMAGE CONTAINED, IN DOING SO.
Trademarks @ Healthyou.ca
Certain names, graphics, logos, icons, designs, words, titles or phrases at this website may constitute trade names, trademarks or service marks of Healthyou.ca. Nothing contained on this website should be construed as granting, by implication, estoppel or otherwise, any license or right to use any mark displayed on the website without the written permission of Healthyou.ca or such third parties who may own the marks displayed on the website.
Limitation of Liability
Healthyou.ca does not accept any liability for your use of this website. Your use of this website is at your own risk. This website is provided on an "as is" and "as available" basis, without any representations, warranties or conditions of any kind, whether express or implied, and including, without limitation, implied representations, warranties or conditions of non-infringement, merchantability, fitness for a particular purpose, performance, availability, timeliness, accuracy, or completeness, all of which are hereby disclaimed by Healthyou.ca to the fullest extent permitted by law. Healthyou.ca will not under any circumstances be liable to you or any other person for any loss or damage (whether direct, indirect, special, incidental, economic, or consequential, exemplary or punitive) arising from, connected with, or relating to the use of, or inability to use, this website or the information, or any action or decision made by you or any other person in reliance on this website or the information, or any unauthorized use or reproduction of this website or the information. Healthyou.ca shall not be responsible or liable for any damages incurred to computer equipment or other types of equipment used nor for viruses that may infect the former due to the access and use of this website or the downloading of any document or materials from this website.
Brenda Shares her Mission

My life's passion statement is... To help people accomplish far more than they ever thought was possible. One key way that I am seeking to accomplish this is by teaching people about how to relax! How to embrace the loving core of humanity and to help them feel rejuvenated, balanced, and in harmony in mind, body and spirit!. I have realized that if I can help people with their physical, spiritual and emotional needs, then they will be better able to focus on achieving their life's passion and meet with their inner wisdom and beauty! I would like to help people facilitate and navigate the changes that occur in their life, and fully realize their amazing potential! I have also created an adult Coloring Book which I Titled, "Coloring For Energy!" Click Here for Info!


This is a Picture of Our Healthy You Sanctuary. To schedule an appointment, please submit a message on the contact page, and I will return your message promptly! Your friend, Brenda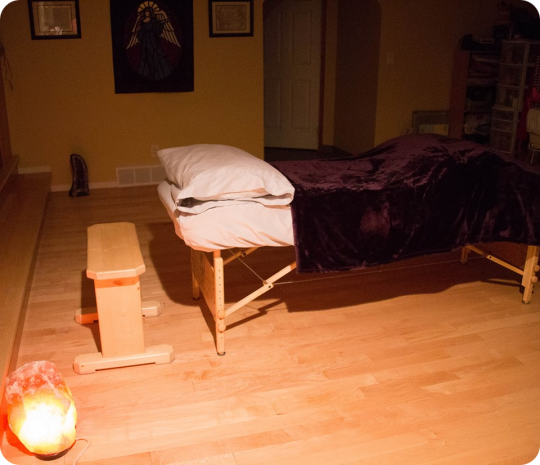 Building Reflexology and Reiki into your life is a fabulous Way
To Become a Healthier, More Productive Person!
About Reiki
/\ Top /\
A Healthy You
Want to Learn More?