Testimonials

Introducing Your Practitioner
Brenda Forsey
Firstly, I would like to say THANK YOU to all of You for submitting your testimonials, and sharing your stories with the world! I love you all, and look forward to hearing everyones success stories, in life and all that entails!
Brenda Forsey has made a huge difference in my life by using reiki on me over the last several years. I have gone from an individual who was unhappy, unsure, unfocused, to an individual who i more grounded in where I am going, more clarity of purpose, and confidence in what I do! Brendas sensitivity and quickness in zeroing in on the problem areas, has helped me to move forward quicker with my vision and mission in life. Brenda is an inspirational, trusting, caring person, who continues to uplift my spirits with her special gifts.


Mona Cooley
Transition Coach
Calgary
As a result of my regular massage practitioner being unavailable, I was in search of someone who could substitute in for a short while. I had heard of Brenda Forsey through a friend of mine and was told of her amazing talents and gifts. Being in need of some therapeutic work on my body,I decided to have a session with Brenda. After the first few minutes, I could feel my body start to let go of tension that had been ingrained for some time. The session went so well that I actually fell into a semi-dream state. Having been involved with natural health practitioners and healers for the past 17 years, I had some fairly high standards as to what I expected out of treatment. After having experienced Brendas spectacular and phenomenal work, I would not hesitate in recommending her to anyone who feels they need to heal themselves on a physical and spiritual level. In my opinion, she definitely belongs in the top 10% of practitioners I have ever Met!


Joe Iannuzi
Calgary
403-276-2719
As a healer, Brenda does her sessions with grace and spirit. kindness and heart. She moves you into a place of feeling a shift, whether it be through tranquility or great release. She has helped me break sdown some big walls, then conforted and guided me through some great emotional release, and when you can be with someone who makes it so safe, there is so much growth, mentally, emotitionally , spiritually and Brenda is one that does this very well.As a Reiki practitioner myself, I have learned from her vast knowledge of many different techniques for doing healings. Her knowledge of so many healing modalities trully makes her a great teacher.


Stefany Joy
Artist
Concord, North Carolina
While receiving a Reiki treatment from Brenda, I experienced a wonderful sense of peace. it was completely relaxing, and I was unaware of how muchtime had passed. When she was done- I felt hugely energized, peace ofmind, headache had dissappeared, and I feltquite rejuvinated. everyone should try this - Brenda has a wonder talent for putting you at ease.


Linda Mac
Musician, Gym Instructor
Kelowna, B.C
Before my treatment, I was stressed, and I had pain throughout my body. After the Reiki treatment, my aches and pains were greatly reduced. I felt relaxed, rejuvenated, and peaceful. It was a wonderful experience! My precious pet Dog Penny became very ill, and was near death. Brenda Forsey came over several times ad did Reiki treatments on her. Penny bounced back and is now well again.


Brenda McManus
School Teacher
Calgary
Brendas Reiki sessions are the best I've had. I've always attained relief of any nagging problem, and feel much stronger, clearer, and calmer afterwards.


Don Arnold
Electrician
Calgary
I have enjoyed many Reiki sessions with Brenda. She is able to detect,with great accuracy, and imbalances i might have, and helped me overcome them.I respect her so much, I have taken Reiki level 2 from her,and am presently working towards taking level three and masters levels with her. I appreciate her high, but calming energy she brings to everything she does.


Gail Arnold
Calgary
... We had the pleasure of receiving many readings from Brenda, and are highly impressed with the accuracy and deep insight into any dilemmas we might have going. There is an undeniable feeling that very high souls are assisting her. Brendas readings conveya sincere desire to assist people through their hardships and we highly recommend her services


Gail and Donald Arnold
Calgary
Brenda Shares Her Mission!

My life's passion statement is to help people accomplish far more than they ever thought was possible. One key way that I am seeking to accomplish this is by teaching people about how to relax! How to embrace the loving core of humanity and to help them feel rejuvenated, balanced, and in harmony in mind, body and spirit!. I have realized that if I can help people with their physical, spiritual and emotional needs, then they will be better able to focus on achieving their life's passion and meet with their inner wisdom and beauty!
I would like to help people facilitate and navigate the changes that occur in their life, and fully realize their amazing potential!

When i am not Painting, Drawing, or taking Photos...I teach and practiceReiki, along with Reflexology, Kinesiology, and also Teach Music. I love to draw and paint as well as write. So i will be uploading my art and writings HERE frequently. My Inspirational website is: www.simply-serendipity.ca should you want to be inspired today."

View More Testimonials HERE!

"I love nature and this magnificent world...I look forward to visiting your sites soon and enjoying your gifts and talents! You may visit me on facebook too! Lets connect, and make this world a more beautiful place, at: Simply Serendipity! "


Building Reflexology, Reiki, and Kinesiology into your life is a fabulous Way to Become a Healthier, More Productive Person!

This is a Picture of Our Healthy You Sanctuary. To schedule an appointment, please submit a message on the contact page, and I will return your message promptly! Your friend, Brenda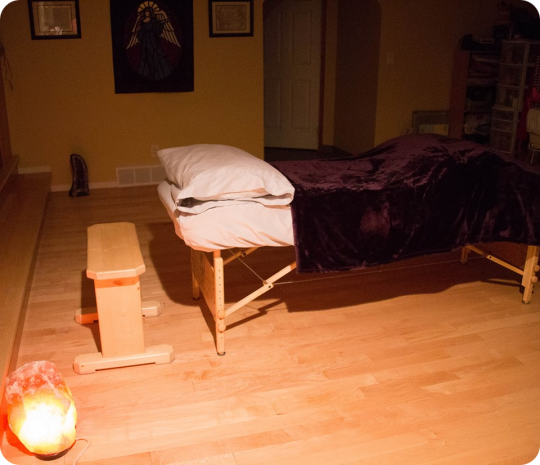 Want to Learn More?
Submit an Inquiry on the Contact Page